We rolled out our brand new modern company website a couple weeks ago, and the response has been fantastic. As part of that rollout, we also updated the appearance of our blog to match our main web site.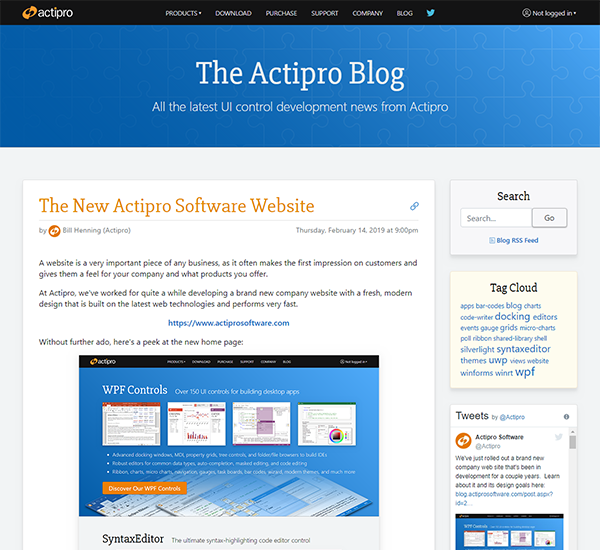 Our blog was previously hosted using a third-party web app (the classic BlogEngine.NET) on a separate blog.actiprosoftware.com sub-domain. While that web app has served us well, it was time to move on.
One thing we've wanted to do for a long time was eliminate the use of a third-party web app for the blog, and merge the blog right into our main company website. I'm pleased to announce that today we've accomplished that goal.
New Blog URL
Please update your bookmarks appropriately since the blog is now fully integrated into our company website and is found at this new URL:
https://www.actiprosoftware.com/blog
Benefits
The primary benefit of this change is that it's now easier than ever for you to comment on blog posts. Simply sign into your normal Actipro website user account and if you've performed the e-mail validation (you've already done this if you post in our discussion forums), you're ready to post in the blog comments. It's a very seamless experience.
Another benefit is that the new integrated blog uses the same powerful comment editing mechanism as our forums. Comments used to be limited to plain text in the old blog. The new blog comment editor fully supports rich formatting, code snippets, etc.