Code Writer v2.5, our free text/code editor app, is now published to the Windows Store.  Please note that the new version may take several hours to show up in the Store.
Are you interested in adding code or text editing abilities to your own Windows Store apps?  SyntaxEditor for Universal Windows allows you to build apps just like Code Writer.  Download a free evaluation to try it out.
Check out all the new features added to Code Writer…
Accessing App Settings
See the Summary section for info on our future plans to give the app a UI refresh designed for Windows 10.  In the meantime, we've made the app's Settings easier to access in Windows 10.  It can be done in two places: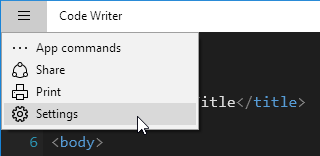 The first is from the hamburger menu on the upper left of the app window.

The second is from the bottom app bar that shows when you press Windows+Z or click the status bar ellipses ("…") to show the app bars in the Editor screen.
Browse Picker
The Browse picker's 'All Files' file type filter can now open unregistered file types.  It comes up by default allowing *.* files to be opened.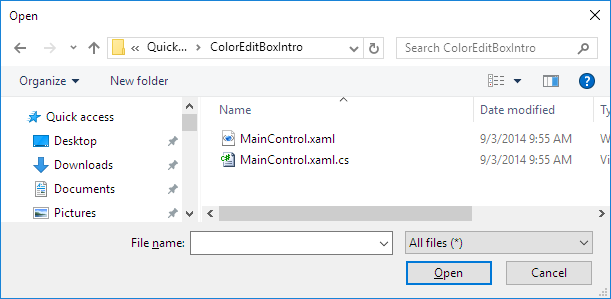 If you drop down the file type filter, all file extensions are now sorted alphabetically.
Move Selected Lines Up/Down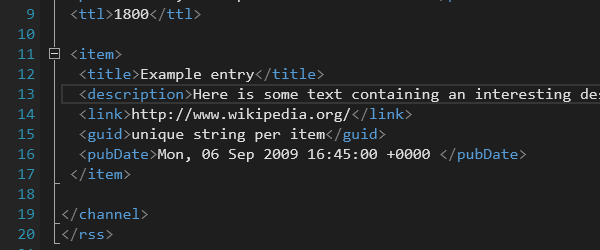 Alt+Up and Alt+Down can now be used to move the selected lines up and down.
New Font Options for Eastern Character Display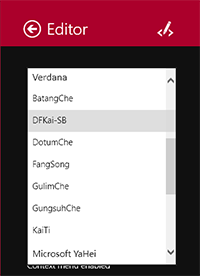 New options for Eastern fonts are now available in the Editor settings flyout.
HTML Improvements
A HTML5 doctype is now added by default to the HTML, PHP, and ASP new document templates.
HTML auto-completion for void elements will no longer self-close certain tags like <br>.
Miscellaneous
Several other updates are included:
codewriter://close-all URL closes all open documents, losing any unsaved changes.  If you have a troublesome document that might be preventing the app from loading, try this command.
Print settings for syntax highlighting, line number margin, and whitespace are now saved.
Indentation guide contrast has been increased.
Fixed a bug where the Save As dialog didn't select the document's current file type by default.
Fixed a bug where the CSS file type wasn't syntax highlighting media queries correctly.
Summary and Future Windows 10 Plans
This update adds several features that have been requested by our users.  It will likely be the last version released for Windows 8.1.  Now that our Universal Windows Controls are released, our goal is to get Code Writer upgraded to the Universal platform and give it a UI refresh that is better designed for windowed usage.
Have any suggestions for a refreshed Windows 10 UI?  Now is the time to post them in the app's discussion forum.
You can also download a free evaluation of our SyntaxEditor control for Universal Windows, which lets you add advanced code and text editing to your own Windows Store apps.