Major New Features
Obsidian Theme
A new theme has been added the is inspired by the classic Obsidian theme.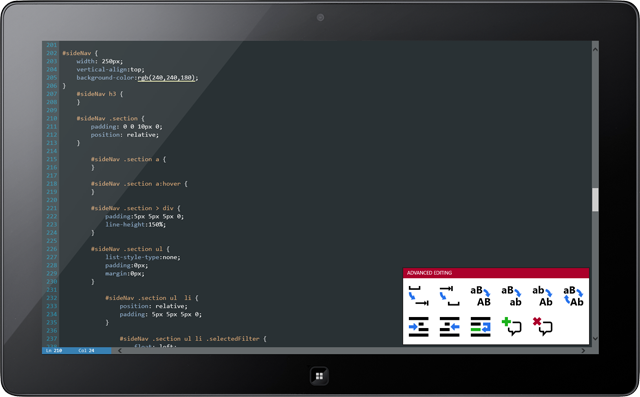 File Encoding Option
An option has been added to the Editor settings flyout, allowing you to specify a desired file encoding to use when saving files.  By default it will use logic that attempts to match the file's existing Unicode format (if present), and fall back to saving in UTF-8.
Middle Mouse Clicks to Close Documents
Middle mouse button clicks on the document tabs now close the document.
Color Previews Support rgb() and rgba() Syntax
Color previews now work for rgb() and rgba() syntax.
Horizontal Scrolling Support via Trackpad
Use trackpads and advanced mice to horizontally scroll documents.
Duplicate Line Operation
A new duplicate line operation can be executed from the Advanced Editing Operations gallery or via Ctrl+D.
Disable the Soft Keyboard
A new Editor settings flyout option allows the soft keyboard to be disabled from showing when the editor has focus.  This is ideal for touch-based reviewing of code.
Chord Hotkeys for Advanced Editing Gallery
New chord hotkeys have been added to some of the Advanced Editing Operations gallery items that didn't already have hotkeys.  For instance, pressing Ctrl+E then C will execute the comment selection operation.
New Modern Icons for File Associations
We've completely rebuilt our icons used for file associations in the desktop side, such as:

Now file type icons all have high-resolution support and have a modern look with the Code Writer logo, and the same color associated with each file type.
Current Line Highlighting Remains Visible
Current line highlight now remains visible when focus is moved to other UI elements, such as the find/replace flyout, etc.
Summary
This new version adds some very nice enhancements to the app.  Go to the Windows Store to download it, and help us by tweeting about the app!