Last week we announced that Actipro Icons Essentials v3.0 was released.  Icons Essentials is our main icons bundle, with thousands of unique crisp and clear icon designs.  We also offer an Icons Elements package that consists of various adornments that are intended to be combined with other icons (such as those from Icons Essentials) to create icons with new meanings.

In the example above, an "image" icon was combined with a "hand" element to create a "share image" icon.
Today I'd like to announce that version 2.0 of our Actipro Icons Elements product also launched last week, adding new image designs and new image size variations (64x64, 48x48, 32x32, 24x24, and 16x16) into the mix.  The first version of these icons only included two size variations.  All icons ship in PNG and Icon formats. 
Here's an example of how a couple elements look at each of the size variations: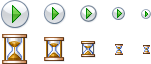 Note that elements are smaller than normal icons since they are intended to be merged into other existing icons and just change their context.  They afford you the ability to mix and match however you need.
Download a free sampler of our icons to check them out!
Upgrading to v2.0
If you are an existing Actipro Icons Elements customer, you can upgrade to v2.0 for just $49 per developer.  Bulk discounts are also available.  Please email our sales department for assistance with upgrading.