Actipro WPF Controls v2020.1 development is in progress, and the new version's main goals are to modernize our UI control features/themes, and make theme customization much easier.
In the previous post, we showed off a new ShadowChrome control that is a decorator for rendering modern shadow effects. In today's post, let's have a look at some of the major work we've done on modernizing the appearance of our Ribbon product for v2020.1.
Comparing Appearances
For the 2020.1 version, we've gone through every Ribbon-related control and made style improvements to match the latest appearance found in Office 2019. Let's see how the 2020.1 version's theme compares to our current 2019.1 version's theme:


You can see from the screenshots that there are subtle differences throughout. Whitespace has been adjusted, glyphs are now chevrons, the title bar background accent is more restrained, etc.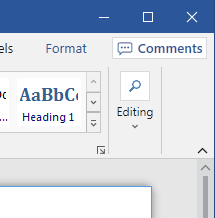 Looking at the right side of the Ribbon, collapsed groups now render a bit differently from before. Contextual tab groups are more subtle. Tab row buttons like the Comments one in this screenshot have a new available style. And there is a built-in minimization button on the bottom-right.
Animated Tabs
We also wanted to provide fluid animations throughout the Ribbon, similar to Office. When you move your mouse over a tab, the underline animates to fill the tab.

When you select a new tab, the tab's content animates into place with a quick slide.
Animated Backstage
Continuing on the animation front, we harnessed the great new WindowChrome overlay features that are coming in 2020.1 to host our Ribbon's Backstage.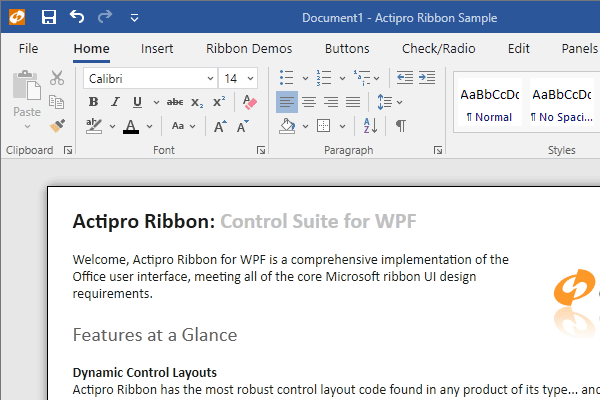 This allows the Backstage to be fully animated on display as well.
Summary
We are still continuing to iterate on our themes for Ribbon and other products, but this should give you an idea of some of the fantastic themes updates coming in the new version.
Post in the comments below if you have any feedback or questions about the new Ribbon themes.