What's New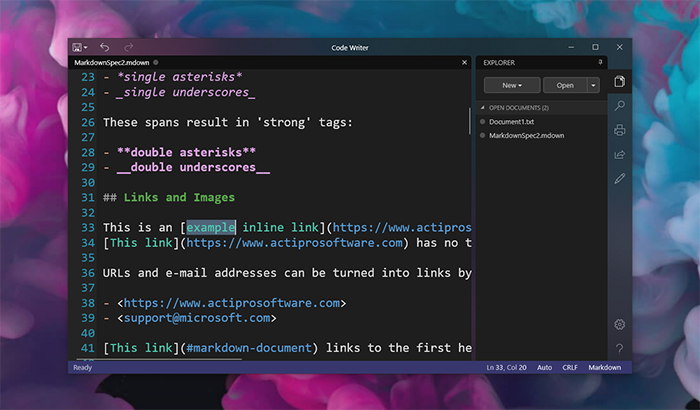 ADDED: Editor support for triple-clicks to select an entire view line.
CHANGED: Markdown syntax highlighting improvements.
FIXED: Keyboard shortcuts that include Alt could conflict with AltGr.
FIXED: Crash when adding a custom extension for a file type.
FIXED: Crash when using Windows Narrator.
About Code Writer
Code Writer is a free text and code editing app, downloadable from the Microsoft Store, and is used by thousands of people each day. Version 4.x requires the Windows 10 Fall Creators Update (version 1709) or later.
Want to get the latest news about Code Writer? Follow our @CodeWriterApp Twitter account.
Want to chat with us about Code Writer? Please register to join our Slack workspace and join the #codewriter channel once added.
If you are a Universal Windows app developer, you can download a free evaluation of our Universal Windows Controls to use in your own apps. Code Writer makes use of our SyntaxEditor, Docking/MDI, PropertyGrid, and Editors controls. SyntaxEditor is of particular interest because it lets you add advanced code and text editing to your own apps.