As we finally draw near the release of the 2013.1 versions of our WPF, Silverlight, and WinRT/XAML controls, I'd like to take this opportunity to announce a new product being added to all three platforms:  full size charts!
The platforms mentioned above already have our Micro Charts product, which is ideal for visualizing data in small sizes, such as in grids or dashboards.  Customers have asked for complementary large charts that have multiple-axis support, grid lines, etc.  And we have delivered.  The 2013.1 versions will be receiving full size charts, and as usual, the API will be the same among the three platforms, allowing you to easily port code around.
First Look
Let's take a first look at a Surface device running the WinRT version of a Charts demo: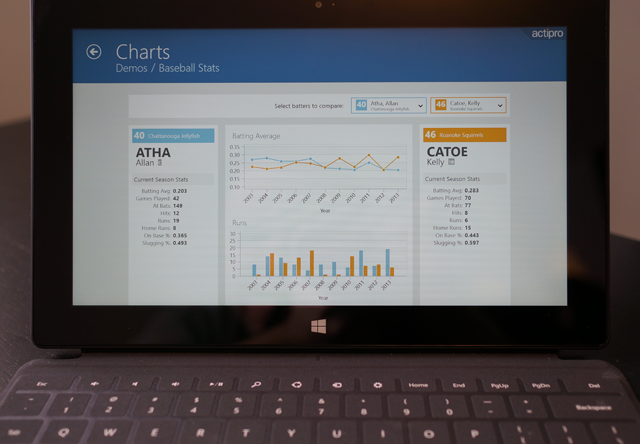 In this Baseball Stats sample, we compare the statistics of two fictional baseball players and visualize important data through the use of charts.
Summary
We are currently finishing up the 2013.1 versions for the platforms and hope to have them (and the new Charts products) out in the next couple weeks or so.  Keep watching our blog for more details.