In our last post, we introduced our new free Code Writer app, which is a text and code editing application for all Windows 8 devices, including ARM devices like the Surface RT. Code Writer uses a work-in-progress port of our SyntaxEditor code editor control to the WinRT/XAML platform.
Chromeless Editing UI
Following the design methodologies for Windows Store apps, we've made the Code Writer editing experience completely chromeless. Everything is hidden from view by default while you are editing your document.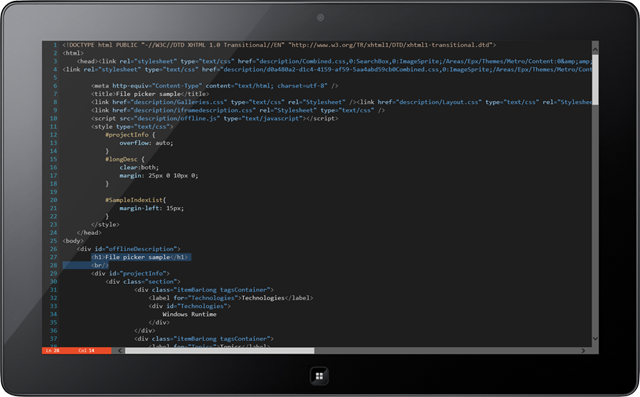 We do however show current line and column status right within the horizontal scrollbar area. This is important info that you always want to see and doesn't waste any valuable space by being in the scrollbar area.
You'll note the orange background for the line/column display. As mentioned in our previous post, we've designed our app to use color to create a bond between you and the various file types you work with. If you peek at the last post, you'll see that on the Add Document screen, the HTML document file type has the same orange background. While we're editing a HTML document in the Editor screen, the same orange color subliminally tells us that we're in a HTML document. This is useful when Ctrl+Tabbing through documents.
Tabbed Document Interface and Other Editing Features
You may be asking, how do I access other documents and editing features with a chromeless UI? You simply swipe down from the top (or up from the bottom) to show the app bars for this screen. Pressing Windows+Z or right-clicking does the same thing.
The top app bar shows the tabbed document interface. A blue border surrounds the current document. Other open documents have a border on one side, again the same color used to identify each file type. For instance the JavaScript file there has an olive color.
Simply click on a document to switch to it. Right click options are available as well with features like Close All But This, etc. Click the "add" button on the upper right to access the Add Document screen (also available via Ctrl+N).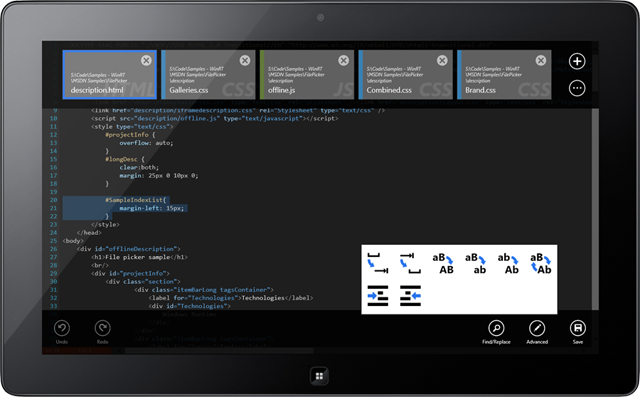 The bottom app bar has access to editing features. One interesting feature is the popup gallery of advanced edit actions. This gallery will grow over time (we already have more features coming in the next version). It allows quick access via large touchable buttons to features like tabify lines, convert case, indent, etc.
Summary
Code Writer has a very polished and unique design for a text/code editing app. And it follows all of the Windows design experience guidelines, making it fit right in with other high-quality apps for the platform.
It is available in the Windows Store now. If you like what you see, please click the button below to go download it and write some code on your devices.