A couple weeks back, we released our first set of Universal Windows controls.  And right before that, all the work we've been doing on Docking/MDI for WPF (codenamed vNext) the past few months was released as part of our 2016.1 WPF Controls.  Docking/MDI's internals were rewritten from scratch to support all the latest docking window oriented functionality found in apps like Visual Studio 2015 and the feedback on the new version has been tremendous.
Here's the really exciting part for Universal Windows app devs… Part of that vNext rewrite was to also ensure that the same Docking/MDI API and design would work in Universal Windows apps!  And today we are formally announcing that we are looking for beta testers to try it out. 
This SyntaxEditor and Docking/MDI combination screenshot shows a tabbed MDI and tool windows docked around it: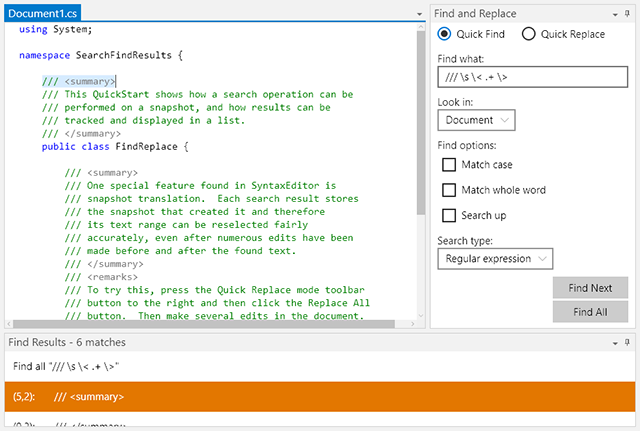 Are you making a Universal Windows line of business app or any other app that would benefit from docking tool windows and/or a fully-managed tabbed or windows multiple document interface?  Then look no further.  The Docking/MDI product for Universal Windows has nearly the entire feature set of the amazing WPF version!
Write Us to Beta Test
If you'd like to help beta test this brand new product for your Universal Windows app, e-mail our support address to request beta access.  In your email, please give us an overview of the app you're developing and how you plan to integrate docking windows and/or MDI into it.